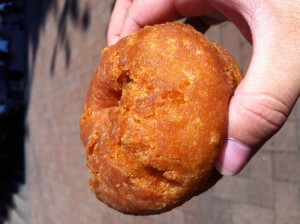 #NorthVan365 Day 7.
When you mention Deep Cove, people know you really mean Honey's Doughnuts. No visit to Deep Cove is complete without grabbing one, or two, or three of these delicious doughnuts. Sure there are other things to do in the area, but the main attraction are the doughnuts.
If your significant other tells you the lineup is way too long and out the door, don't worry it moves fast. It would move faster if people knew what they wanted and perhaps had their money out to pay… I'm not here to stare at the back of the person's head in front of me… I want a doughnut. Try a regular one before you try any of the other flavours. They are perfect when they are warm and soaked in syrup. Like I mentioned before, this place is usually busy and packed to the gills in the warmer months. If you want to take in some of the nature of the area, they pack them to go in paper bags. I can't ever get too far before ripping into the bag.
For more information about Honey's Doughnuts you can find their website here: http://honeydoughnuts.com/
Directions
4373 Gallant Ave, North Vancouver, BC
– Take Hwy #1 from Vancouver over the second narrows bridge
– At exit 22A, turn right onto mount Seymour parkway.
– Follow this road till Deep Cove road, then make a left turn.
– Continue on Deep Cove road till the end as it turns right onto Gallant Road. We are located on the right hand side of Deep Cove's main street.