#NorthVan365 Day 6.
Who could resist standing at the foot of a beautiful waterfall in the middle of the forest, especially after hiking for 7km! Norvan Falls in North Vancouver is still a hidden gem but is becoming more and more popular every year.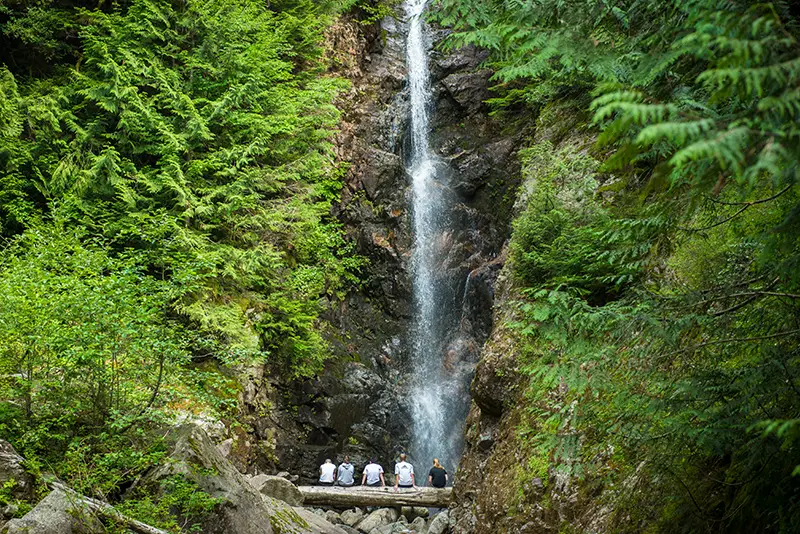 Norvan Falls Trail Access from Lynn Headwaters
The journey to Norvan Falls is long but very worthwhile. Not just for the reward at the end of the trail but for the beautiful forest and scenic North Vancouver mountains you'll see along the way. Norvan Falls is 14km round trip on a fairly flat trail that follows Lynn Creek for most of the way. It begins at Lynn Headwaters Regional Park and ends after a 7km walk through the wilderness.
The first 4km follows a well groomed trail along the river. There are a few side trails that will take you down to the water if you have time for a detour. Don't wander too far though. After 4km you will come to a rocky clearing known as the debris chute. On the left you will see a small trail that leads down to the water. It's worth taking a look as there is some spectacular views of the surrounding mountains. Once you're finished taking a well deserved break follow the trail at the top of the debris chute that leads to Norvan Falls.
You will begin to hear the sound of rushing water as you approach the falls. The trail follows a long boardwalk and then descends down towards the river. When you reach the falls there is a small lookout spot but due to the erosion it's a little dangerous and probably better to avoid. Follow the trail down to the water and take in the amazing scenery. There are plenty of large rocks to sit on and set up a picnic if you have one.
If you're up for a bit of rock hopping you can get right up close to the falls. There is a large tree stump across the pool beneath the falls that is great to sit on and take it all in. Be sure to watch for falling rocks from the falls and the surrounding cliffs. When you're done taking in the falls you can return to the Lynn Headwaters Park entrance the same way you came. Just make sure you leave with enough time to make it back before dark.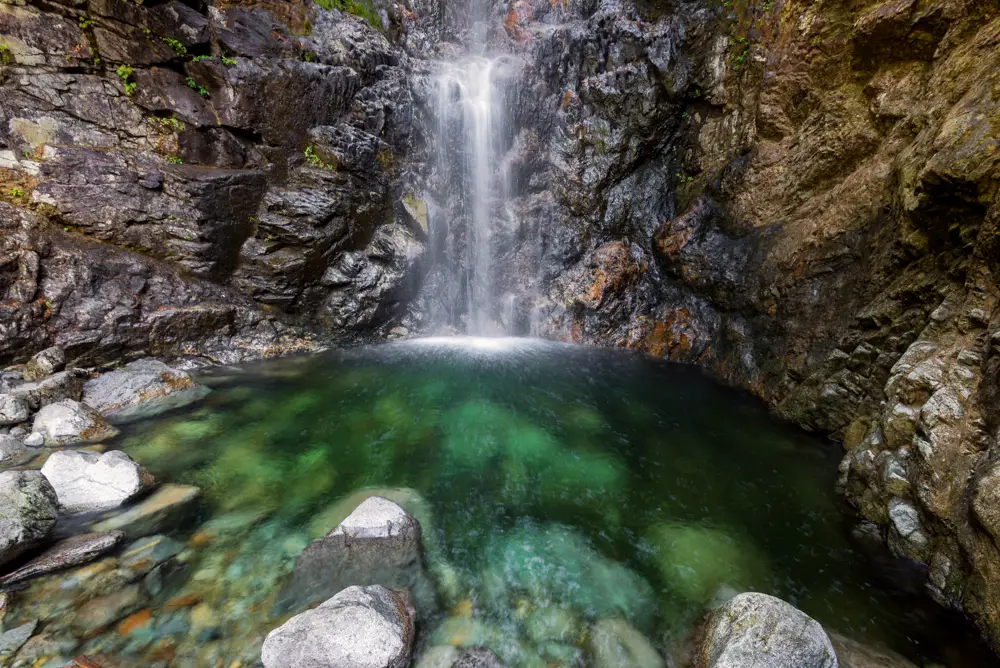 What to bring on your hike to Norvan Falls
Lots of drinking water
Lunch or snacks
First aid kit
Directions to Lynn Headwaters and Norvan Falls
Follow Lynn Valley Road Northbound until you reach the entrance to Lynn Headwaters Park. It's just past the End of the Line cafe. Continue straight down the narrow road until you reach the parking area. There are 3 lots plus an additional overflow lot but it does fill up quickly so the earlier you start your hike the better.