NVMA's story-filled walks entertain with tales of war time deeds and daring mountaineering adventures.
North Vancouver, BC – This July and August the North Vancouver Museum and Archives will present free, drop-in, story-filled walks at the Burrard Dry Dock site and in Lynn Canyon Park.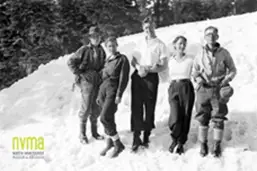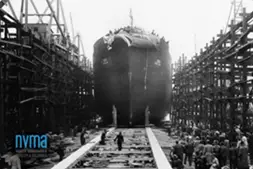 Burrard Dry Dock opened in 1906 and was, for most of the twentieth century, the largest shipyard in Western Canada. Over 450 ships were launched from this site including innovative self – dumping log barges, coastal ferries, icebreakers and most famously the WW II Victory ships. The war years were a busy time with around the clock production and a greatly expanded work force, which for the first time included women! Shipyard Pals Sal and Sam will perform stories of this exciting time while walking visitors through North Vancouver's historic Burrard Dry Dock.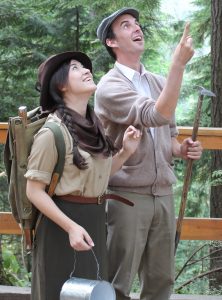 New to this year's program is a walk in the old forest in Lynn Canyon Park. Here mountaineering enthusiasts Max and Molly will entertain with tales of daring adventure and rescue in the early days of North Shore mountaineering. Named after Royal British Engineer and North Vancouver resident John Linn, Lynn Canyon Park has welcomed and wowed visitors for over a hundred years. On this walk the audience will be introduced to some of the North Shore's most adventurous residents – mountaineers, rescue team members, skiers and climbers.
Portraying Sal, Sam, Molly and Max are theatre students Kelsey Ranshaw from the University of British Columbia and Julien Galipeau from Langara Studio 58.
How to Participate
Shipyards: Free drop-in tours at the Shipyards are offered Friday, Saturday and Sundays at 1.30 and 3pm from July 8th to August 28th.
Lynn Valley: Free drop-in tours in Lynn Valley are offered Wednesdays and Thursdays from July 7th to August 25th at 1:30 and 3:00 pm. For more information or to book a free group tour call 604.990.3700 ext. 8008 or visit nvma.ca.
Funding for this project has been made possible in part through a contribution from the Young Canada Works in Heritage Organizations program, Department of Canadian Heritage. The Canadian Museum Association administers the museum component of the YCW program on behalf of the Department of Canadian Heritage.